Newspaper print figures have been decline in some time now but what does this mean for pr?
At first thought it may seem that print being in decline may pose an issue for pr but in fact it means the opposite. The decline in print has meant the rise in digital media opportunities, which encourages creativity and means we get to come with campaigns that really stand out.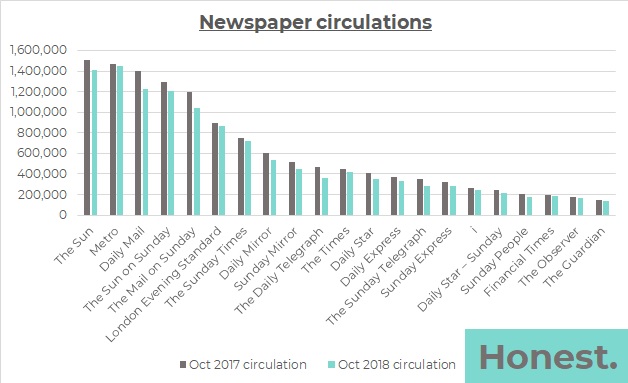 Print media still plays a key role and magazines are great for opinion pieces, wider features and stunning photography but newspapers don't play the same role they used to in delivering news. Why pick up a paper when you can have real time content in seconds, and then gather varied opinions on social media about the topic?
Storytelling and communicating are still vital, just now in a new medium. Digital PR, social media, podcasts, video, brand experiences – the list goes on. To keep up with this, PR is evolving (read our blog on this here). Less journalists to work with needn't mean less opportunities. Media relations are more important than ever before, as is keeping abreast of who the key journalists and new influencers are. Print journalists are of course vital but content writers, online journalists and digital editors should now be main points of contact to help create website authority and boost brand reach and visibility, in line with the digital strategy as well as core PR activity.
Whilst a mention in a national newspaper will still have a big impact, PR people need to be in touch with more than just journalists. Influencers are of course a key way of doing this, but the end user should also be considered as a key stakeholder in a communications plan. Brand endorsements from customers can be incredibly powerful and good old fashioned word of mouth shouldn't be underestimated. To create brand endorsements, PR professionals and marketing teams should be creating enhanced customer experiences and really giving people something to shout about.
This will generate loyalty and in turn create a new wave of brand advocates.